Remedial Massage Five Dock

Remedial massage is probably the most popular type of service provided in Five Dock (and Sydney in general). There are a couple of reasons for this. Firstly our lifestyles, our work life and recreational hobbies lead to us suffering from aches, pains, postural imbalances that can be best remedied by remedial massage. Secondly the health funds such as Medibank Private, BUPA, NIB, HCF, Grand United, AHM, etc encourage us to choose remedial massage ahead of other modalities by providing health fund rebates.

Listed below are some of the businesses that offer remedial massage in Five Dock. Should you require a health fund rebate for remedial massage, then we always suggest that you mention it when making a booking as some businesses may not offer rebates for all funds.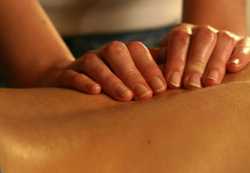 Inner West Mobile Massage
www.innerwestmassage.com.au
Ph: 0421 410 057
Remedial Massage in the comfort of your own home - seven days a week


---
Richard Lane Mobile Massage

www.richardlanemassage.com.au
Ph: 0434 631 987
Experienced massage therapist (qualified 2001) available for home remedial massage
---
Saltuary

Shop 2, 134 Great North Road
FIVE DOCK, NSW, 2046
Ph: (02) 9713 8688
---
Back to Active

97 Queens Rd, Five Dock
(inside Box HQ CrossFit gym)
FIVE DOCK, NSW, 2046
Ph: 9745 6803
---