Sports Massage Five Dock

If you are after (or think you may be after) sports massage in the Five Dock area then there are a few accredited clinics or mobile massage therapists who may be suitable for your requirements.

Sports massage covers a wide range of treatments depending on whether you are after a maintenance massage during heavy training, post-injury recovery bodywork, pre-event sports massage or post-event. The techniques and intensity of the bodywork that the therapist will incorporate into a session will vary depending on your requirements.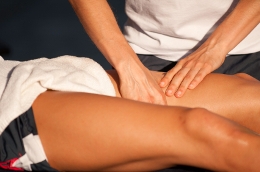 If you are not sure what sports massage is or whether it is appropriate for you then give the therapist a call and find out a little more about what they recommend for you and, indeed, whether they are suitable for your particular needs.

Please note that sports massage is not just the realm of professional or serious sportsmen or woman. Anyone who regularly undertakes exercise can benefit by incorporating regular sessions so that they can recover from training faster, reduce the risk of injury by pin-pointing potential problem areas sooner and reward themselves!

Inner West Mobile Massage
www.innerwestmassage.com.au
Ph: 0421 410 057
Accredited sports massage therapists available for home visits for sports massage Five Dock


---
Richard Lane Mobile Massage

www.richardlanemassage.com.au
Ph: 0434 631 987
Experienced massage therapist (qualified 2001) available for mobile massage.
Diploma Sports Therapies
---
InTouch Remedial & Sports Massage

Five Dock Leisure Centre
Cnr Queens Rd & William St
FIVE DOCK, NSW, 2046
Ph: 0432 794 402
---